"Room Arrangement for the time of Tango-no-Sekku, the Boy's Festival in May"<10:00-18:00, Friday, April 28 -Friday, May 5>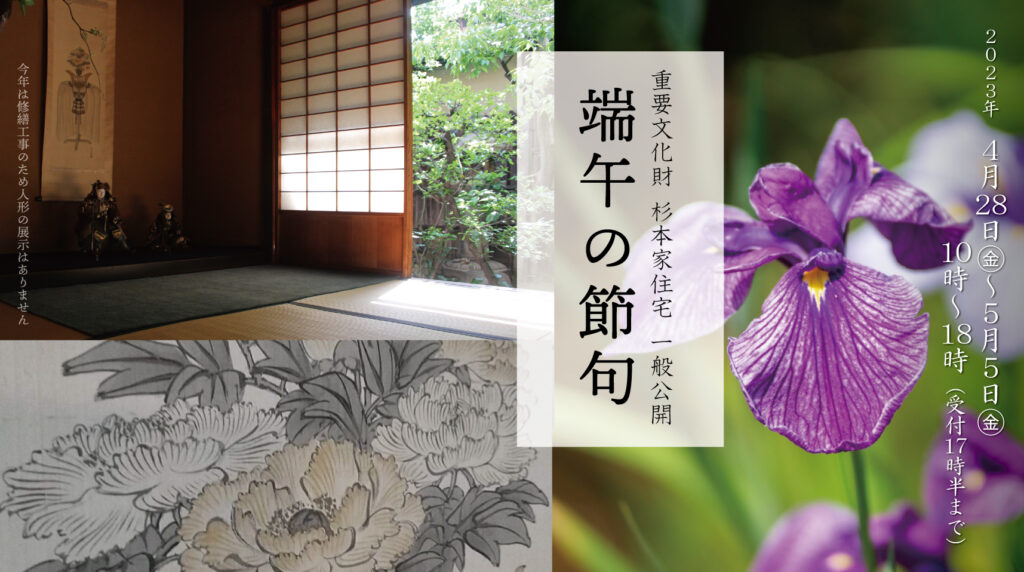 We will prepare our kyomachiya room for the season of Tango-no-Sekku, the boy's festival in May. It will be our pleasure if you can enjoy the gorgeous and dignified kyomachiya, a different from the usual, befitting a hare event.
*Please note that the Sekku dolls will not be on display due to our roof repair work.
The teahouse offers our original amazake "Awayuki," which is very popular, as well as Shohokuen's matcha green tea (with original monaka) and other delicacies that can only be enjoyed here.
Please spend a relaxing springtime in a traditional kyomachiya.
Period
Friday, April 28 – Friday, May 5, 2023
Open Time
10:00 – 18:00 (Entrance desk closes at 17:30)
Admission Fee
1,500 yen (High school students and younger 800 yen)
Reservation
Unnecessary
Contact
Phone: 075-344-5724 
*For inquiries in English, please use the contact form on our website.
(Please understand that it may take some time for us to reply.)
*Please note that there are parts of the building that cannot be viewed due to the repair work on the main roof.
*When getting into the residence, visitors will be required to wear socks to protect the important cultural properties (Stockings for women are not acceptable).
*We ask visitors to understand that it is not permitted to take photos of exhibits, such as paintings and calligraphic works in the residence.
*Basically, there is no guidance in English, and the following YouTube video may be helpful for your understanding of the Sugimoto Residence.