Sugimoto Residence Crowdfunding Round 3! Until 23:00, November 13!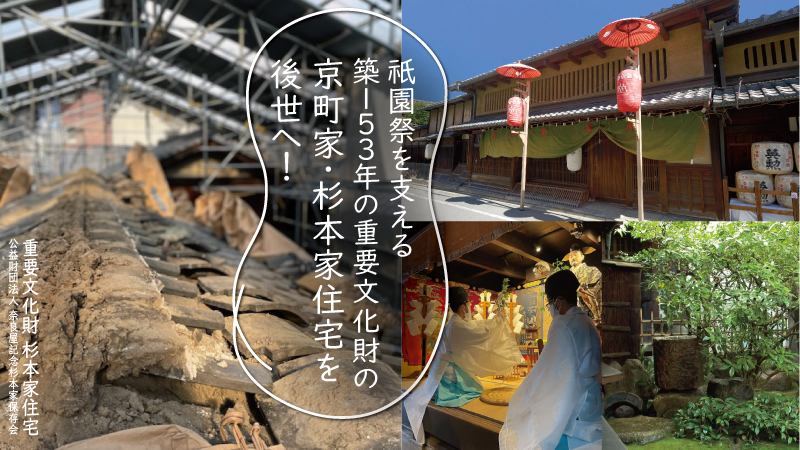 Sugimoto Residence, one of the largest traditional machiya (townhouses) in Kyoto city.
Following the first phase of construction in 2022, we are currently progressing with the second phase.
We are planning the third phase of construction in 2024, with the completion scheduled for the end of March 2025.
This repair project of the Sugimoto Residence, which is designated a National Important Cultural Property, is related to the "Hakugayama" of the "Yamahoko event of the Kyoto Gion Festival" designated as a UNESCO Intangible Cultural Heritage, is necessary to protect the tangible and intangible cultural heritage of the Kyoto merchants, as well as to preserve for future generations the food culture of merchant families and the beautiful landscape of Kyoto's olden days.
We kindly ask for your warm support for the repair work expenses this time.
Preserving the 153-year-old Important Cultural Property, Sugimoto Residence, Which Supports the Gion Festival for Future Generations!
We are conducting a crowdfunding campaign from 10:00, Friday, September 15, 2023 to 23:00 , Monday, November 13, 2023.
In this crowdfunding campaign, we have prepared various returns for those who support us, such as entrance tickets to the Sugimoto Residence and original merchandise from "Hakugayama," the district where the Sugimoto Residence is located. We sincerely ask for your support for the Sugimoto Residence crowdfunding campaign during this period.
You can find the READYFOR crowdfunding site (in Japanese) here.