"Objects and Tools that Color Our Lives" – Opening to the Public Days <10:00 - 17:00, Every Friday, Saturday, and Sunday from November 3 to December 10>
*The Sugimoto Residence will be temporarily closed on December 15, 16, and 17 due to a delay in interior construction. (This information was added on November 28.)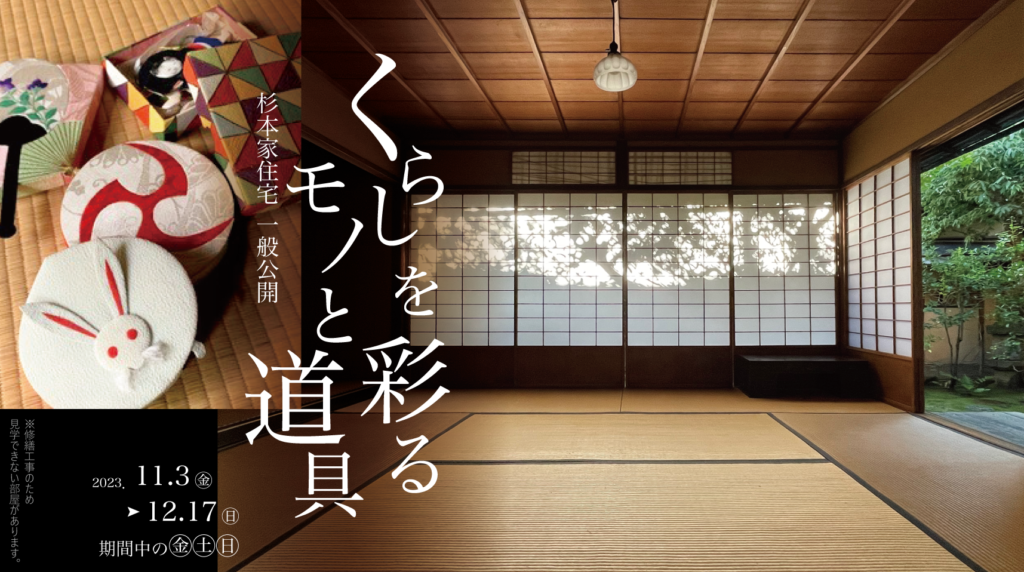 Mending and Living: A Deliberate and Joyful Life Style That Seems Difficult at First Glance
We will convey the value placed on items from the Meiji to the Showa era through the tools passed down in the Sugimoto family.
The stone mortar for making glue, the traditional fabric stretching method called "shinshibari," sewing boxes, and the handmade small boxes and tools adorned our lives.
These tools used in practice will evoke wisdom and a sense of playfulness in our current lives.
Open Days
Every Friday, Saturday, and Sunday from Friday, November 3 to Sunday, December 17 10
*The Sugimoto Residence will be temporarily closed on December 15, 16, and 17 due to a delay in interior construction. (This information was added on November 28.)
Open Time
10:00 – 17:00 (Entrance desk closes at 16:15)
Admission Fee
1,500 yen (High school students and younger 800 yen)
Reservation
Unnecessary
Contact
Phone: 075-344-5724 
*For inquiries in English, please use the contact form on our website.
(Please note that it may take some time for us to reply.)
*Please note that certain parts of the building cannot be viewed due to repair work on the main roof.
*Upon entering the residence, visitors are required to wear socks to protect the important cultural properties (Stockings for women are not acceptable).
*Though photography is allowed using smartphones, we kindly ask visitors to understand that taking photos of exhibits and commercial use of photographs is not permitted.
*Please note that there is no guidance in English, and the following YouTube video may be helpful for your understanding of the Sugimoto Residence.