Opening to the Public Days in August <10:00 - 18:00, on August 4-6 and August 18-20>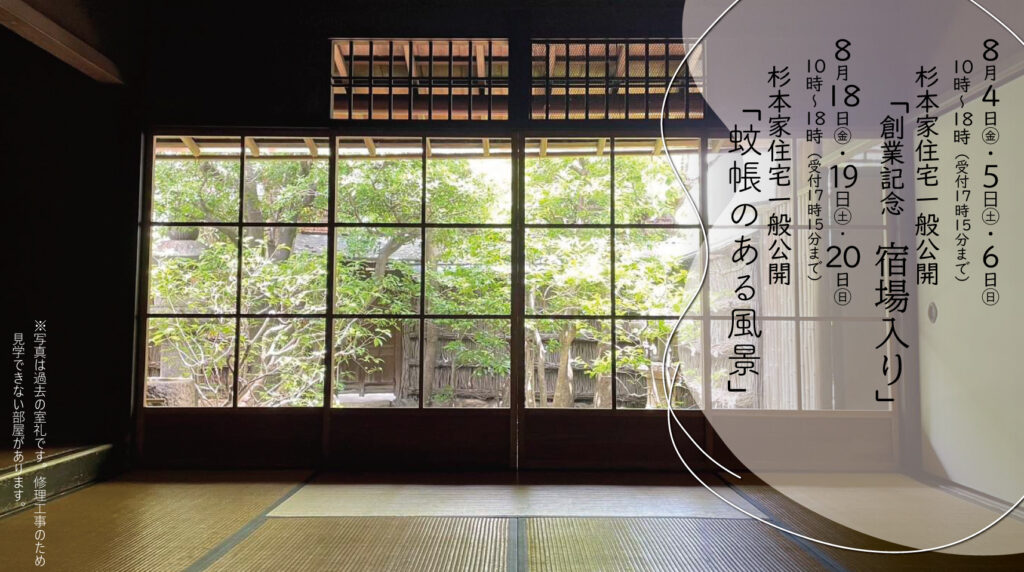 "Yadobairi," the Anniversary of the Founding of the Family's Business "Naraya" <August 4 – 6>
August 5 is the anniversary of the founding of the Sugimoto family's business "Naraya."
Calling the day "Yadobairi (independent day)," we decorate tokonoma with items from that period, such as books and other articles carefully preserved in the storehouse. Please enjoy viewing our ancestors' belongings and the Edo period's history.
Landscape with Kaya (Mosquito Net) <August 18 – 20>
"Kaya (mosquito nets)" is a traditional Japanese summer custom. This is a nostalgic and new "kaya" exhibition that adults and children can enjoy.
Open Days
– Yadobairi: Friday, August 4 – Sunday, August 6, 2023
– Landscape with Kaya: Friday, August 18 – Sunday, August 20, 2023
Open Time
10:00 – 18:00 (Entrance desk closes at 17:15)
Admission Fee
1,500 yen (High school students and younger 800 yen)
Reservation
Unnecessary
Contact
Phone: 075-344-5724 
*For inquiries in English, please use the contact form on our website.
(Please note that it may take some time for us to reply.)
*Please note that certain parts of the building cannot be viewed due to repair work on the main roof.
*Upon entering the residence, visitors are required to wear socks to protect the important cultural properties (Stockings for women are not acceptable).
*Though photography is allowed using smartphones, we kindly ask visitors to understand that taking photos of exhibits and commercial use of photographs is not permitted.
*Please note that there is no guidance in English, and the following YouTube video may be helpful for your understanding of the Sugimoto Residence.